All About Your Spoiled Goddess

Location: Toronto, Ontario, Canada
Birthday: September 29th (Libra)
Status: Lifestyle Dominant

Hobbies:
I enjoy vacationing, clubbing, shopping, dancing, swimming, fine dining, spa treatments,computers, movies, games,girls night out, reading, and other kinky fetish activities that I mention later on.
About Goddess Annika:
I'm a dominant, young, self centered, open minded woman with many interests. My world revolves around me and so will yours. I love shopping and I can always find a place to spend your cash at any time of the day. I insist on getting my way at all times. I enjoy the control that I have over my slaves. Teasing someone until they squirm in their frilly little panties makes me grin. Large tributes get me excited. I love pushing buttons and expanding horizons. I get pleasure out of controlling my slaves bank accounts and credit cards. I love going on vacations that you pay for. I can't resist taking advantage of the moneyslaves that open their wallets to me. Oh, and I love to laugh at your expense and be entertained.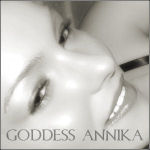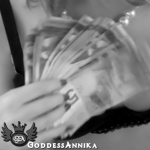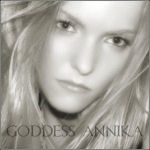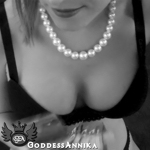 I like to experiment, which has helped me discover what I like and dislike. My BDSM experience began as soon as I discovered it. (Who knew there was a meaning for how I treated my boyfriends?) I prefer slaves that are a little more advanced, or at least willing to try anything I want. As you would expect, I am very particular in who I will accept as my slave. I will not waste energy on a submissive that doesn't interest me. I am here to be pleased and you are here to please. Make sure you remember your place. You will have to work hard to entertain my greed, amuse me, and mold into my perfect little slave boy or girl. My time is valuable and can only be attained through dedication. I do things at my leisure and for my pleasure. I expect all or nothing from my male servants.
I'm also part of a mixed dominant bisexual couple. (Yes, a naughty cuckoldress to manipulate and use you.) We enjoy using slaves as a couple in real time. A sexy dominant duo who enjoys the lifestyle together. We don't play 24/7 but are always in control.
My Fetish Interests:
Some of my fetish interests are listed below.
Webcam Sessions
Small Penis Humiliation
Sissy Maids
Strap-On Training
Strap On Worship
Training & Obedience
Shopping Slaves
Cock and Ball Torture (CBT)
Cum Restrictions, Orgasm Denial
Personality & Behavior Modification
Forced Intoxication
Ball Kicking, Trampling
Human Furniture
Pain Slaves, Pain Sluts
Chastity & Keyholding
Bare Feet & Foot Worship
Stiletto, High-Heel, Boot Worship
Feminization, Sissy Training
Restraints, Sensory Deprivation
Nylons, Stockings, Fishnets

Financial Domination, Moneyslavery
Tattoos, Needles, Body Piercing
Cuckolds (Cucks)
Hot Wax
Latex, Leather, PVC, Corsets
Boxing, Closeting, Caging
Shopping, Shoes, Lingerie
Nipple Clamps, Weights
Clothes Pins
Gloves, Manicures, Pedicures
Long Painted Nails
Funnel Gags, Inflatable Gags
Masks, Hoods
Tease and Denial
Total Power Exchange
Spanking, Paddling
Crops, Canes, Whips
Face Sitting, Face Slapping
Spitting
Web Slaves – Graphic Slaves
:: Need more? PTV Store | Send Tribute | Call ::